Datum/Zeit
15.04.2017
Einlass: 20:00 Uhr
Veranstaltungsort
Große Bühne
Kategorien
Schlagworte Analog, Disco, Disco Stoner, Punk, Techno
Kartenvorbestellung
Buchungen sind für diese Veranstaltung nicht mehr möglich.
Rock'n'Roll – Ostern im Schlachthof Eisenach
Dämse (Analog, Techno, Disco, Punk aus Jena)
Presse: http://www.otz.de/web/zgt/kultur/detail/-/specific/Band-der-Woche-Bedaemsung-der-Galaxis-hat-begonnen-8211-8222-Daemse-8220-1106890258
Internet: http://www.dämse.de/
Facebook: https://www.facebook.com/Daemseland/
Jimmy Glitschy (Disco Stoner aus Jena)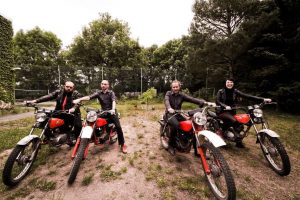 Gues what happens if an exile-swede and a glowering guy with sideburns are the two last souls in a godforsaken drinking hole in Uppsala, sweden?
You got it, a band is formed.
It is further logical that the upcoming band does not set it's headquarter in snobbish Stockholm or hispter Berlin but chooses the tranquilly city of Jena as their base. The city which has become some kind of "mekka" for Stoner and Noise rock around bands like Dyse or Rodeo Queen and the nearby Stoned from the Underground Festival. The perfect place to pollute the world with a disco stoner tsunami, as Jimmy states.
Musically, Jimmy and his cronies also show their preferences for the unconventional. The band settup includes a lady on drums and a frontdancer (yep, you read that right) as well as their own new subgenre: disco-stoner (again, you read that right). Even though this may sound kinda odd, the mix goes incredibly well, as their 2011 released EP "dance! or! die!" demonstrates.
In some moments one might literally feel some dusty, hot and dry journeys to Queens-of-the-Stone-Age kinda tunes, beeing stunned by fierce creaking disco basses the next second. A sound, bands like Electric Six would surely throw an eye on.
Madness!
Internet: https://jimmyglitschy.bandcamp.com/
Facebook: https://www.facebook.com/JimmyGlitschy/
Kkröte (Stoner-Desertrock/ deutscher Post-Punk aus Berlin)
Kröte sind im Sommer 2016 aus den Sümpfen Berlins gestiegen, um die Bühnen dieses Landes mit dröhnendem Heavy Rock und melodischem Post-Punk zu bespielen. Mal glipschig und giftig, mitunter gallig und laut – eine Gestalt stets wandelt.
Internet: kkroete.bandcamp.com/
Facebook: https://www.facebook.com/kkroete/